USANA Helps Ronald Ellison Jr. Find His Voice and Hope for the Future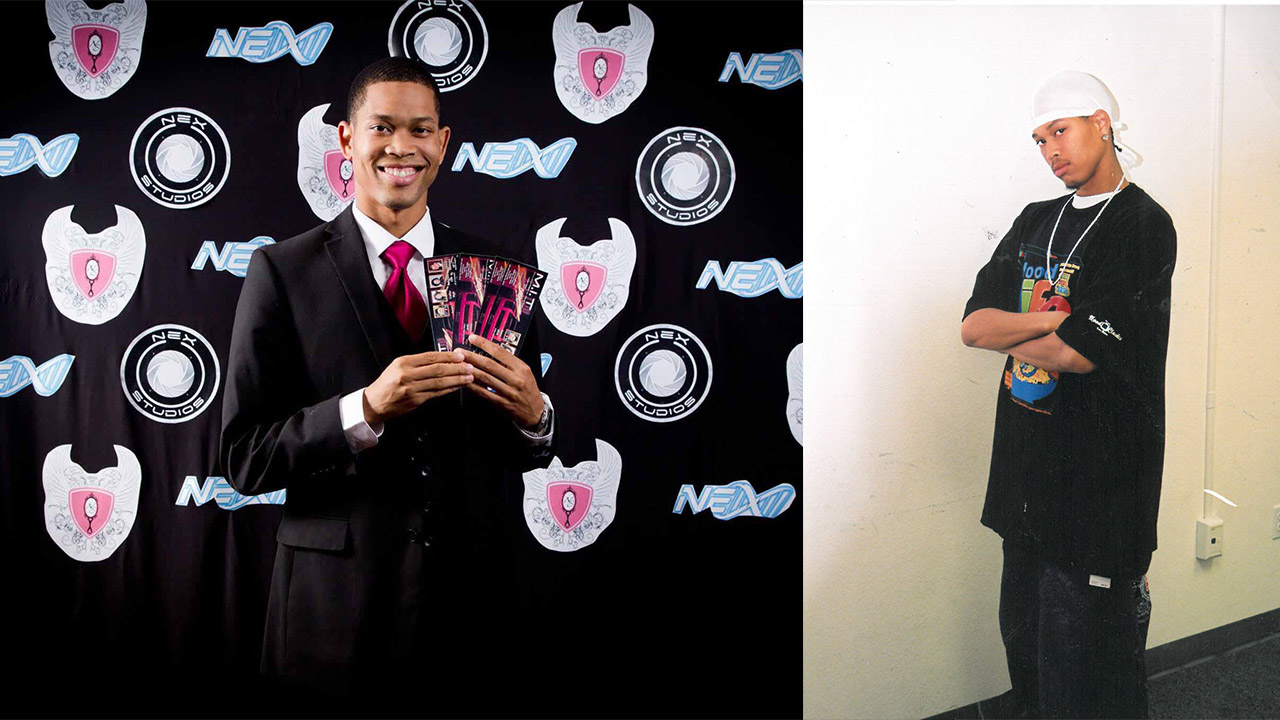 USANA is a lifestyle.
Don't believe me? Just take a look at Ronald Ellison Jr.
The 25-year-old may only rank as a Builder, but he has the strength, determination and excitement that embody USANA's tagline: Your Health. Your Life. Your Way.™
Like so many people before and after him, Ronald's path to USANA was not one he could have known when he started out.
Ronald grew up in a high-crime, low-income neighborhood. His mother sacrificed her own dreams so that her three children could try to attain their own. Still, Ronald grew up surrounded by death and violence. Most relationships became singular blips on the radar as friends died, went to jail or moved away.
"I never felt I had any value in life because who was I to be remembered?" Ronald tells What's Up, USANA? "But I didn't want to be someone who was just here one day and gone the next."
So Ronald studied the historical figures he admires — Martin Luther King Jr. Mother Theresa, Gandhi — and looked for a common thread. What he found was they were remembered for their service to other people.
"Service to many leads to greatness," Ronald says. "People don't remember what you do for them but remember how you made them feel. So I strive to be remembered. To have a goal to make an impact so I can live my legacy and let the rest leave itself."
And the first step for him to achieve that goal was pursuing higher education.
Finding the Right Fit
Ronald began his college career with an undeclared major. He remained that way for a long time. "I couldn't figure out what I wanted to do with my life," he says.
So Ronald began trying on majors to see if they were the right fit, but just like Goldilocks in the tale of the Three Bears, it was hard to find something that was just right. Business was so boring Ronald couldn't stay awake during class. The freedom of being an actor appealed to him, but it turned out memorizing long lines was not as easy as it seems. Child development classes taught Ronald he didn't have patience to work with kids right now. Psychology, history and counseling also got left by the wayside.
Jumping around wasn't helping Ronald find himself or his niche. That's when he took a closer look at his track coach. The coach got a master's degree in kinesiology and was making six figures. His job allowed him to enjoy free time, and that was something Ronald truly valued. "I had seen how much other people worked and never had time for anything, and I didn't want that life," Ronald says.
More research on kinesiology showed its compatibility with personal training, and that got Ronald thinking; maybe he could be a personal trainer and a coach. Both seemed lucrative and he could work with people, a win-win situation.
Though kinesiology became his major, Ronald says everything he tried before it plays into personal training and his USANA business. He's now a counselor to his clients and teammates. He understands business and investments. He has the confidence to act out scenarios. And he has a better understanding of the science behind USANA's products.
Finding USANA
You might say Ronald indirectly joined USANA as a favor to a friend. She had suggested USANA products as an alternative to the muscle milk Ronald was using at the time. Initially, he declined her offer. A few days later, he ran into a mutual friend who also vouched for USANA, explaining world-class athletes were using it and the company offered legitimate products.
The conversations piqued Ronald's interest, but he was still on the fence. That's where the favor comes in. The first friend asked Ronald to come out and support her at a meeting. "We have been friends for a while, and she would always invite me places, and I would always say no," Ronald explains. "And I felt bad since she always tried hard to include me in things, so I decided to say yes to her request to come support her."
Ronald doesn't remember the specifics of that meeting — only that there was a product introduced that helps the cardiovascular system and there was some kind of athlete guarantee.
That's really all it took.
"I was ready to start, because if there was a slight chance the products could help my family, I wanted to give them a try," Ronald says. "The money potential sounded good, and I could use that money to help my family.
The business concept was simple. As a personal trainer, Ronald knew a lot about word-of-mouth referrals. It was something he did all the time. Only now, he could get paid for it.
A USANA business just made sense. "I thought, 'What do I have to lose?' and came to the answer — nothing," Ronald says. "If I say no, I go back to the life I didn't want and had. If I said yes, who knows what may happen. But I would never know unless I gave myself that chance. … I had nothing to lose and everything to gain."
Changing for the Better
Ronald believes everything happens for a reason. Nothing comes into our lives without making us better, he says. Even bad experiences educate and shape us into who we are. So he took a leap of faith and joined USANA.
With that one action, Ronald began to change, and people began to notice. While his mother liked that he was dressing up, his sister was shocked to see her brother go from baggy T-shirts and over-sized pants to the slacks and dress shirts overnight. Her brother was suddenly serious about something.
Ronald's friends were initially negative about his new life, but as they saw his excitement, which was rare, that negativity turned more positive. The truth was, Ronald didn't care what they thought. "I didn't care about anyone's opinion but my own as I know what I saw, and I knew it was good," he says.
Along with that good came the support of a whole new group of friends — family, really — who understand the challenges of building a business. USANA gave Ronald NEX.
Those who have recently met Ronald would never believe his old negative personality. It's easy to look at the negative side of things and neglect the good, Ronald says, but through NEX, he's gained an appreciation of what he has.
"The rare moments I feel down, I have someone there to pick me up," Ronald says of NEX. "I receive calls from people who I do not even benefit asking if I have a ride to places. Those rare moments when I feel like I should give up, they always call at the right time. To me, those are my signs to keep fighting in this journey."
Ronald admits most people in his position would be frustrated with the lack of success he's had in regards to a title. But he doesn't mind. "To represent an idea that will live beyond myself is not an overnight sensation," he says. "It's a step-by-step, day-by-day process of constant improvements."
"For once in my life, I feel loved, appreciated and respected. I consider USANA and my support group NEX all my family. I believe with NEX I now a have a voice that can be heard, and I now have a purpose in affecting the lives of others and so much more."

— Ronald Ellison Jr.
[wp-imageflow2]
Celebrating Your Story is a What's Up, USANA? series spotlighting various Associates who are doing extraordinary things. If you know someone who should be featured, please email us at

[email protected]

with "Celebrating Your Story" in the subject line.
We're proud to bring you the freshest content on the web! Follow USANA on Twitter, like our USANA Facebook page and enjoy the latest videos on the official USANA YouTube channel.

Learn what USANA is doing to make the world a better place.
The future of personalized health and nutrition is now available with USANA's True Health Assessment.
https://whatsupusana.com/wp-content/uploads/2013/04/Ronald-Ellison-Slider.jpg
720
1280
Jessica Whiting
http://whatsupusana.com/wp-content/uploads/2019/11/USANA_Logo_Black.png
Jessica Whiting
2013-04-10 07:55:48
2017-02-22 11:13:58
USANA Helps Ronald Ellison Jr. Find His Voice and Hope for the Future