USANA Athletes: Who's Coming to USANA13?
International Convention officially begins in T-minus 24 hours and if you're anything like me, you're beyond excited to be a part of USANA's annual four-day event in Salt Lake City.
In my case, I'm looking forward to seeing all of our hard work unfold on stage, but for all of those attending, it's about the big announcements, exceptional keynote speakers and amazing athlete segment. Right?!
SLC Welcomes Team USANA
More than 600 world-class athletes make up Team USANA, trusting their health and careers to USANA's high-quality and NSF-tested products. Whether they're flying through the air, defending their titles in the ring, or serving 100 mph aces, USANA's sponsored athletes understand that their nutrition plays a large role in helping keep them ahead of their competitors. They understand USANA makes a difference, and they want you to understand it too.
Cue the Convention athlete segment where a handful of those talented individuals join together on stage, to share their stories of why and how USANA has impacted their lives both on and off their respective playing fields.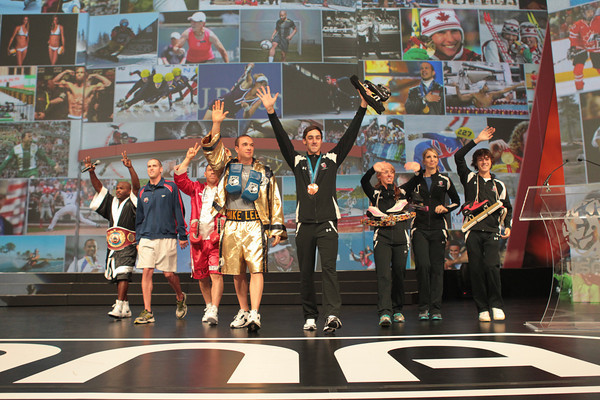 For those who attended the company's 20th anniversary event, do you remember how impressive last years segment was? How motivational the testimonials were? How loud the audience cheered for each athlete and the astounding athlete video USANA Studios created?
[youtube]http://www.youtube.com/watch?v=-9Ee5RyKceE[/youtube]
If you're unable to view the above video, please visit the USANA YouTube channel
It was simply amazing, and this year looks to be just as action-packed.
So, who's coming? I can't tell you. But what I can tell you is that there will be special appearances from some of the best, if not the best, athletes in tennis, swimming, basketball, boxing, football, soccer, ski jumping, skiing and more.
You might even hear from the people behind-the-scenes. The people that keep these athletes injury free, healthy and undefeated. But I guess the only way to know for sure is to be there.
USANA's athletes may be from different countries and compete in different sports, but they all share a strong passion for USANA. So don't miss out on this powerful and unique part of Convention! Make sure you're in your seats for Friday's afternoon session and prepare yourself for what's sure to be one the most memorable experiences of #USANA13!
Recent Athlete Accomplishments
"This is obviously a huge boost for me. I haven't had great results all year really, so to be able to bounce back, especially from last week's first round loss, and play better and better each day, it's really exciting and a good boost going into the last Grand Slam tournament of the year," Sam said.
Sam and the rest of USANA's WTA Brand Ambassadors will next make their way to the east coast in anticipation of the US Open. The fourth and final grand slam of the year kicks off Aug. 26 at Flushing Meadows in Queens, New York.
Conor set a new personal record in the 200m free with a time of 1:45.32 to secure silver and locked down a gold in the 4x200m free with teammates Ryan Lochte, Charles Gipson Houchin and Ricky Berens (7:01.72).
George secured a third place finish in the 50m free (21.51), while Tyler also captured bronze in the 50m free (22.25) as well as the 100m fly (52.07).
Follow Us!
For the latest USANA athletes news, make sure to follow us on Facebook and Twitter (@TeamUSANA)!
*The mentioned athletes are either distributors or dedicated users who have received compensation for their partnership and/or complimentary USANA pro

ducts.
We're proud to bring you the freshest content on the web! Follow USANA on Twitter, like our USANA Facebook page and enjoy the latest videos on the official USANA YouTube channel.
Learn what USANA is doing to make the world a better place.
Discover what USANA products can do to boost your health today by taking this brief online Health Assessment.
https://whatsupusana.com/wp-content/uploads/2013/08/Screen-shot-2013-08-07-at-9.46.46-AM1.png
360
640
Allie Henderson
http://whatsupusana.com/wp-content/uploads/2019/11/USANA_Logo_Black.png
Allie Henderson
2013-08-13 08:00:27
2017-02-22 10:55:09
USANA Athletes: Who's Coming to USANA13?