Ask Allsop: 777 Adventurer Answers Your Questions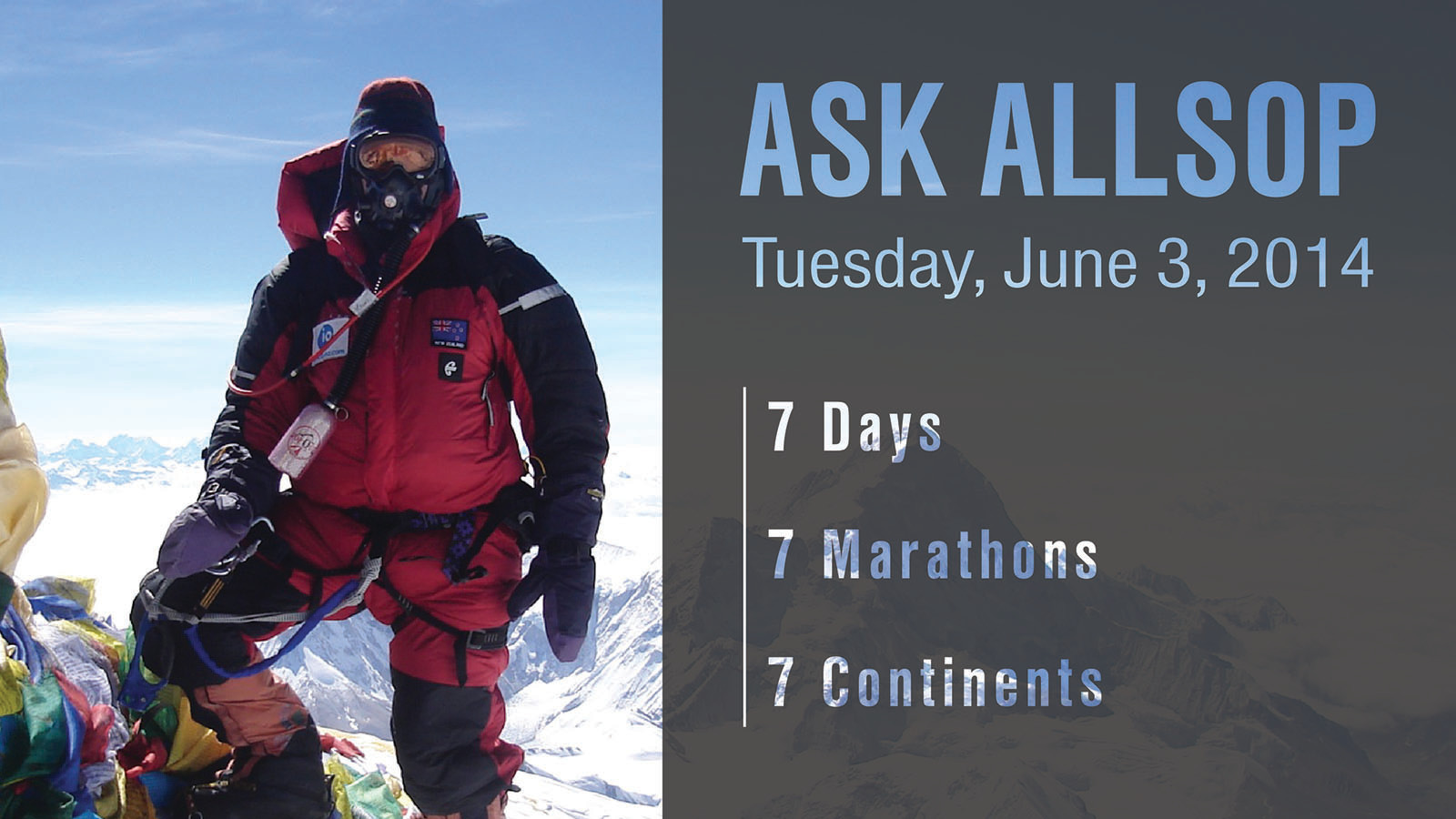 Mike Allsop. You might recognize the name. He's the adventurer who in 2013 ran seven marathons on seven continents in seven days.
No, really.
Aside from the 777 Project being a tremendous feat of athletic ability and endurance, it also proved to be an outstanding humanitarian mission.
USANA accompanied Mike during the 777 Project and continues to keep up with the mountaineer, airline pilot, modern-day adventurer, and author.
In fact, Mike, who's from New Zealand, will be in the United States in June to inspire others and sign copies of his book High Altitude, which chronicles his renewed "zest for life and thirst for adventure" following a near-fatal plane crash.
Live Facebook Q&A: June 3
To kick off his U.S. tour, we're excited to have Mike available to answer your questions LIVE on Facebook. Here are the details:
Who is Mike?
[youtube]https://www.youtube.com/watch?v=8WPYdFsVKwY[/youtube]
If you're unable to view the above video, please visit the Mike Allsop YouTube channel
"Most people who survived an almost un-surviveable plane crash would be tempted to sit back, have a good hard look at life and take things a little bit easier. Commercial airline pilot, Mike Allsop is not most people. Almost losing his life in a Twin Otter crash off the coast of Hawaii awakened Mike's zest for life and his thirst for adventure.
Mountaineering became Mike's passion and climbing led to him almost getting shot in Russia, narrowly missing a fatal avalanche in Peru, returning a replica of a stolen Yeti hand to a Nepalese monastery and then attempting the biggest climb of them all — Everest.
Not content with being an exceptional climber, Mike decided to take up running. But he was never going to be a weekend jogger. He soon cooked up plans to run seven marathons, in seven continents, in seven days — the 777 Project — and also to run the world's highest marathon on the slopes of Mt Everest.
He's currently planning his next big adventure — a journey to the North Pole. Whatever happens, one thing's for sure: he won't be sitting on the couch wondering 'What if?'" — www.highaltitudebook.com
Be sure to follow along for updates throughout Mike's U.S. book tour June 9-15.
Update: Here is a transcript from the June 3 Q&A (click the image to view the comments)
We're proud to bring you the freshest content on the web! Follow USANA on Twitter, like our USANA Facebook page and enjoy the latest videos on the official USANA YouTube channel.

Learn what USANA is doing to make the world a better place.
The future of personalized health and nutrition is now available with USANA's True Health Assessment.
View Tim Haran's profile
https://whatsupusana.com/wp-content/uploads/2014/05/Mike-Allsop-Facebook-Chat.jpeg
900
1600
Tim Haran
http://whatsupusana.com/wp-content/uploads/2019/11/USANA_Logo_Black.png
Tim Haran
2014-05-30 07:55:16
2017-09-11 08:35:21
Ask Allsop: 777 Adventurer Answers Your Questions