USANA Accolades: Another Record-Breaking Year
If you're reading this right now, you have survived the supposed end of the world. So first and foremost, congratulations! Secondly, thank you for choosing to use your extended life to read my latest post. I am truly honored. Really though, I appreciate it.
So you may recall that last year we collected an impressive 45 awards and set an "accoladic" company record. Well, like we did with most everything else this past year, we went even bigger and better, and outdid ourselves yet again.
With acknowledgements for our dedicated staff, impressive sales tools, innovative products, outstanding research and development, and company culture and image, we nearly doubled last year's award count.
In 2012, we earned 89 respectable awards.
And although we do take into consideration that quality outweighs quantity, you must admit that this number is one to be proud of. We worked hard for each of these honors and are grateful for the recognition from these third-party organizations.
So as we blow out the candles to our action-packed 20th birthday, let's take a quick look back at this year's biggest accolade achievements.
"Distributor Choice" Best Company in Network Marketing — Thanks to your votes, USANA was ranked as the No. 1 "Distributors Choice" Best Company in Network Marketing by MLM Insider Online for the 15th consecutive year! Don't forget to vote for us again this year — Vote now!
Utah Business Magazine: Best Places to Work — USANA was also named one of the best 22 companies to work for in the state of Utah for the fifth time since 2002. Selections were determined with the aid of a rigorous two-part survey, which involved the evaluation of company benefits, culture and employee work-life balance.
"We work endlessly to provide our employees with the benefits and tools they need to excel in the workplace while still being able to maintain an excellent quality of life. To receive this title is an honor and an indication that the respect for our employees is a mutual feeling."

                                                – Dave Wentz, chief executive officer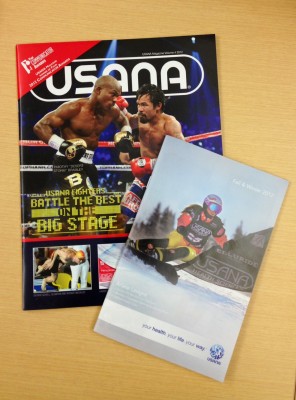 Communicator Awards — Our creative services team is constantly thinking of innovative designs and articles for our USANA magazine, local ads and prospecting tools, and their hard work definitely didn't go unnoticed. Earlier this year USANA received an impressive 14 honors for its impactful pieces.
Outside Magazine: Best Companies to Work For — We've been known to consistently produce great products, customer service and sales tools, so it shouldn't come as a surprise that we would be named one of the 'Best Companies to Work For' in the country. After being examined for over a year, USANA landed on the respectable list, for the fourth consecutive year, at No. 23.
Australian Business Awards — Given to Australia's industry leaders for their innovative business processes, product development and overall business success, USANA was recognized for having one of the 'Best New Products' (BiOmega Jr.) and "Best Innovation R&D" (Rev3) on the continent.
MarCom Awards: Branding Refresh Campaign — Acknowledged for our creative excellence in the marketing and communication fields, USANA was awarded top honors for our new corporate image! This accolade marks the first award the company has received for the new look since its unveiling in August.
Best in Biz Awards: Event of the Year — Remember that little event we held in August called International Convention? Of course you do, because it was considered to be the "Event of the Year"! The "BIB's" honor companies, teams, executives and products for their business successes, and is the only independent business awards program judged by members of the press and industry analysts.
Customer Service Stevies: Customer Service Department of the Year — We know our customer service team is amazing at what they do, but now the rest of the world knows as well. Earlier this year, our CS team was recognized as one of the best departments worldwide, based off of its achievements of sales, business development, customer service and call center professionals.
Best of State: Research & Development — Given to companies based on their excelled endeavors, innovative approaches and methods, the Best of State Awards are highly coveted. This year USANA reigned supreme in four categories, including the Science and Technology group for our first R&D honor.
USANA was also named a The Best of the Best® overall winner of the merchandising and consumer services category, for the second time since 2008.
Stevies: International Business Awards — Similar to the 10 American Business Awards we received earlier this year, the IBA's recognize organizations and professional individuals for their achievements and contributions on a global scale. Our management team, 2011 International Convention and customer service team were recognized as some of 2012's best in their categories.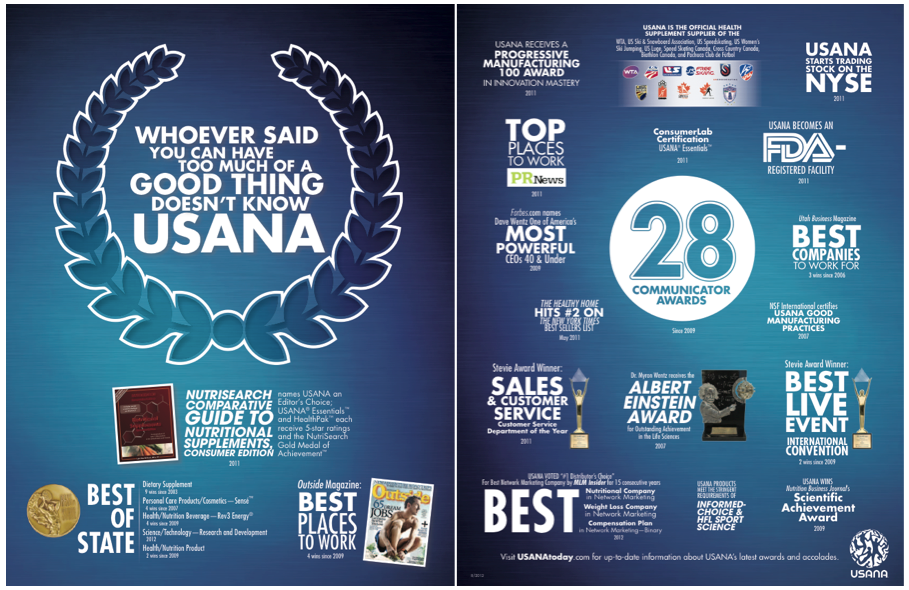 Thanks to everyone who helped make this year one to remember. We couldn't have done it without you all.
Here's to a successful 2013!
We're proud to bring you the freshest content on the web! Follow USANA on Twitter, like our USANA Facebook page and enjoy the latest videos on the official USANA YouTube channel.

Learn what USANA is doing to make the world a better place.
https://whatsupusana.com/wp-content/uploads/2012/12/AccoladesSlider.jpg
720
1280
Allie Henderson
http://whatsupusana.com/wp-content/uploads/2019/11/USANA_Logo_Black.png
Allie Henderson
2012-12-26 07:55:06
2017-02-24 09:25:54
USANA Accolades: Another Record-Breaking Year