USANA Athletes: 4 Titles, 12 Medals, 1 Weekend
USANA provides high-quality nutritional supplements to more than 600 world-class athletes, giving them the extra boost they need to stay on top of their game and be the best in their respective sports. Fact. There's not much to dispute there.
But this past weekend was a testament of what Team USANA is really made of and how incredible each of our sponsored athletes truly are. In fact, Team USANA was nearly unstoppable over the weekend as 10 individual USANA athletes won more than 15 titles and/or medals, in five different sports, in essentially, two days.
600-plus athletes can't be wrong. They trust USANA to meet their personal nutrition needs to keep them at their optimal levels. And excuse the cliché, but the proof is clearly in USANA's products.
Boxing
Timothy Bradley (USA) beat Juan Manuel Marquez (MEX) in a split decision to remain WBO Welterweight Champion of the World. During a post-bout interview the undefeated champ thanked his sponsors, including you guessed it, USANA and proudly displayed a USANA patch in his shorts during the fight. 
Tennis
Australia's Sam Stosur took the HP Open by storm, winning her fifth career WTA title and second of the season at the International-event held in Osaka, Japan. The Aussie is the first player to win the event more than once, having also won in 2009, and even made it to the final round of doubles play with partner Zhang Shuai (CHN).
Photo Credit: WTA and ©HP Open
U.S. Nordic Combined 
Vancouver gold medalist Billy Demong won his ninth national title at the U.S. Nordic Combined Championships in Lake Placid, while teammates and fellow ambassadors Taylor and Bryan Fletcher took home silver and bronze honors.
[youtube]http://youtu.be/d2f2jX0PnMw[/youtube]
If you are unable to view this video, please visit the USANA YouTube channel.
The three Nordic combined athletes quest for top honors doesn't stop there though. Check out what they have to say about their quests for gold this February in Sochi.
Women's Ski Jumping USA 
Veteran ski jumper Lindsey Van secured her 16th U.S. title at the U.S. Ski Jumping Championships on the K90 Olympic hill in Lake Placid, with the two longest jumps of the day (92.0 and 96.5 meters). Teammates Jessica Jerome, a ten-time national champion, took second while Alissa Johnson secured third.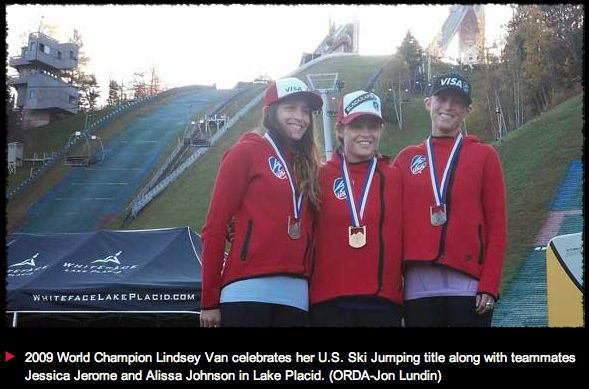 Photo Credit: usskiteam.com
Swimming
George Bovell (T&T) secured two bronze medals in the 50m free and 100 medley at the FINA Swimming World Cup in Moscow, while Kenneth To (AUS) secured gold in the 100m breast and three silver medals in the 100 free, 100 medley and 200 medley. The two Olympians are now headed to Dubai for the next World Cup event.
Photo Credits: George Bovell and Kenneth To via Twitter
BONUS NEWS
Austin "No Doubt" Trout's camp confirmed that Austin will be stepping back in the ring December 7 at the Barclays Center in Brooklyn, New York. He is rumored to face Cuban south-paw boxer Erislandy Lara for a chance to win back the WBA Interim title.
Photo Credits: Team USANA Twitter 
Follow Us!
For the latest USANA athlete's news, make sure to follow us on Facebook and Twitter (@TeamUSANA)!
*The mentioned athletes are either distributors or dedicated users who have received compensation for their partnership and/or complimentary USANA products.
We're proud to bring you the freshest content on the web! Follow USANA on Twitter, like our USANA Facebook page and enjoy the latest videos on the official USANA YouTube channel.

Learn what USANA is doing to make the world a better place.
Discover what USANA products can do to boost your health today by taking this brief online Health Assessment.
https://whatsupusana.com/wp-content/uploads/2013/10/Screen-shot-2013-10-15-at-9.17.48-AM.png
496
765
Allie Henderson
http://whatsupusana.com/wp-content/uploads/2019/11/USANA_Logo_Black.png
Allie Henderson
2013-10-15 10:00:10
2013-11-20 13:43:57
USANA Athletes: 4 Titles, 12 Medals, 1 Weekend