Monica Puig: Tennis' Golden Girl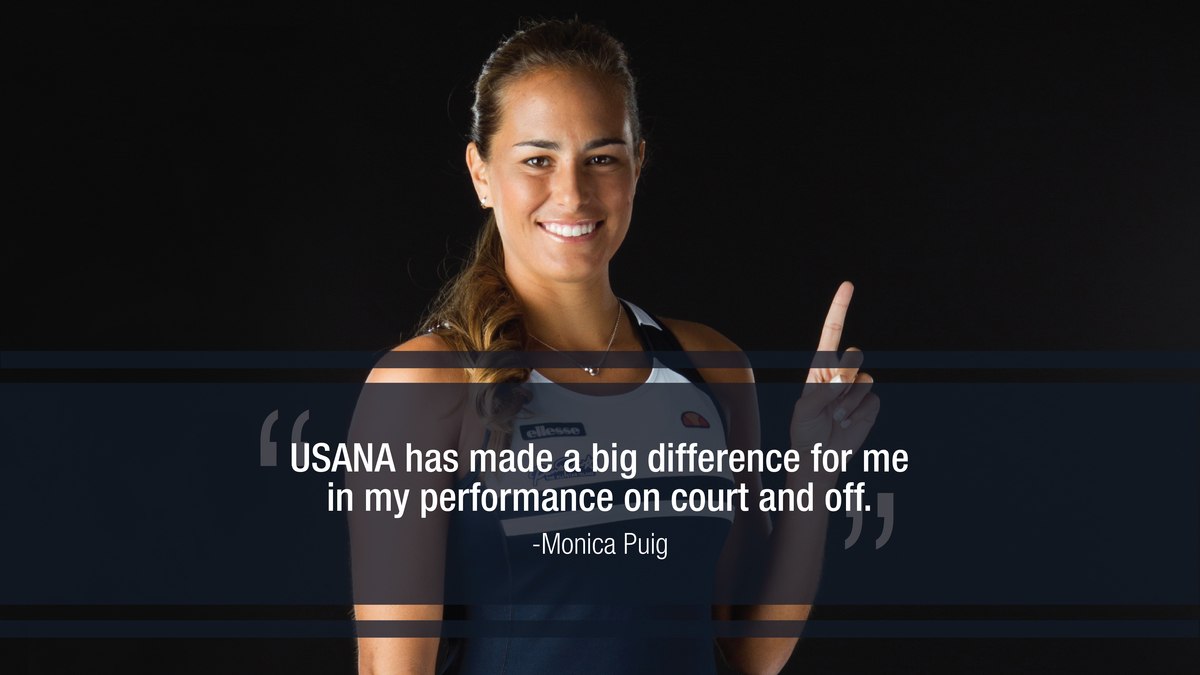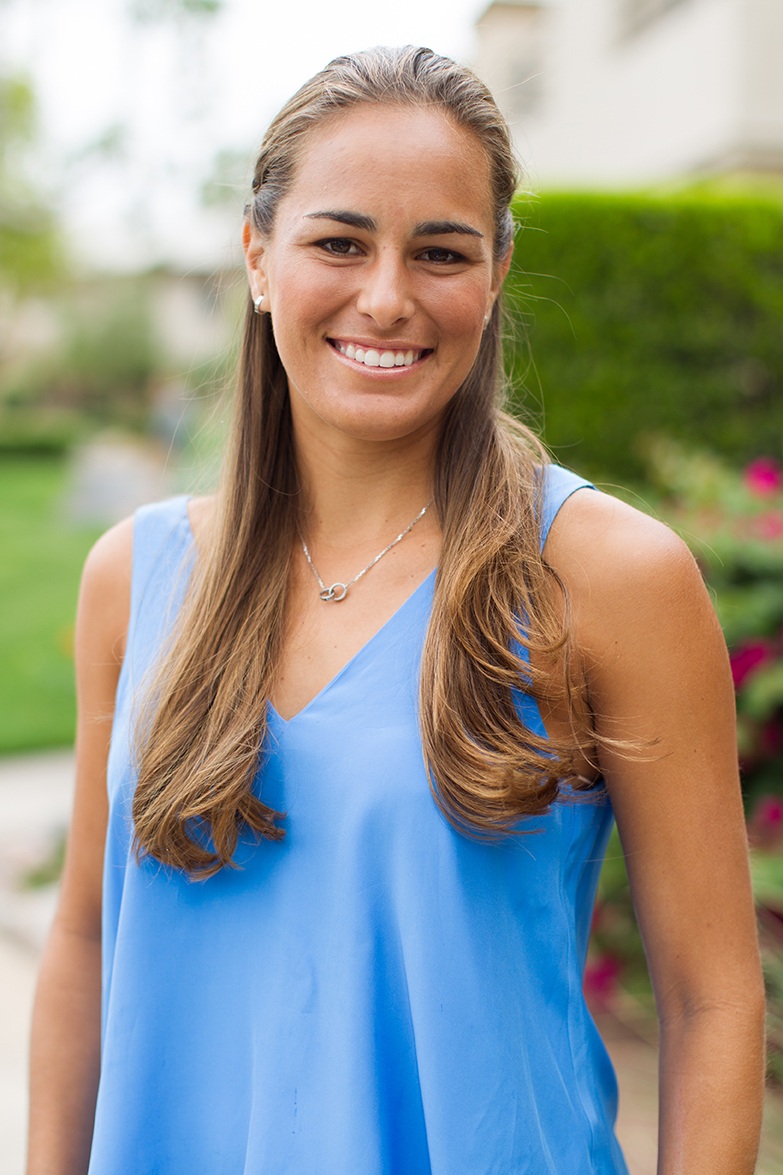 The Women's Tennis Association's, Monica Puig first captured the heart of USANA when she signed on as Brand Ambassador in 2014. Three years later, she continues to showcase her talent with the world and in the process has become a historic icon for Puerto Rico by capturing gold in the women's singles event during the 2016 Rio Olympic Games.
And while her performance during the Games was beyond exceptional, it wasn't the easiest of roads to take to make it to that final match. With a prior season of ups-and-downs Puig knew it wasn't going to come easy, yet her drive and passion for her country and sport helped pave her way to gold.
Remembering Rio
Unseeded and ranked No. 35 at the time, Puig faced a tough draw from the very beginning—defeating two-time Wimbledon champion Petra Kvitová and defending Roland-Garros champion Garbiñe Muguruza before ultimately beating World No. 2 Angelique Kerber of Germany in three sets (6-4, 4-6, 6-1) during the gold medal match.
In winning, Monica become the first athlete—male or female—to win a gold medal for Puerto Rico, and is the first Puerto Rican female to ever medal at the Summer Games since the nation's first appearance in 1948. Prior to her success, the island only held two silver and six bronze medals.
"I have to say that I am very honored and also proud at the same time," says the 22-year-old. "I have always been proud to be from Puerto Rico, and I am so happy to have been able to bring this medal home for the people, to give them the time to celebrate, and give them this joy. My victory is a victory for all of Puerto Rico. Not just me."
Since capturing the hearts of fans around the world — including Ricky Martin, Yasiel Puig and Marc Anthony — Puig has since made her rounds with media, filming a new commercial with sponsor AT&T, appearing on Telemundo and recapping her Olympic story on The Player's Tribune. Her favorite post-Rio appearance however was taking her medal to the country that inspired her.
"I made a trip to Puerto Rico with my team in the days following the win, and received an incredibly warm welcome there from the people. I am still at a loss for words. When we landed, I was greeted by the governor once we got off the plane, and there were hundreds of journalists at the press conference we then held at the airport," she recalls. "I could not believe my eyes when we got outside the airport, there were tens of thousands of people that had come to the airport to welcome me, and many more lined the streets and roads on the way to the hotel. A couple of days later, we had a parade through San Juan and a massive celebration at the Coliseo to finish it. It was an incredible experience and just to see so many people that came out to celebrate was amazing."
PUIG TOUCHES DOWN IN PUERTO RICO
With both Rio and the US Open behind her, Puig is currently preparing for her next series of tournaments in Asia later this month.
"I still can't describe how it feels to be an Olympic champion and to have won the gold medal in Rio! The last few weeks have been incredible, and the support I've received from USANA and fans around the world means a lot to me."
7 Facts About Monica
Why she chooses USANA to help fuel her: It has been an amazing three years, and having been with USANA has made a big difference for me in my performance on court and off.  I was able to really understand the benefits of the products that USANA has available, and personalize them to my needs as a professional female athlete. Knowing the results that the current product line has delivered, I can't wait to use the new products that feature USANA®  InCelligence Technology™. I just picked up my supply at the US Open!
Her go-to USANA products: I have to say that my absolute number one go-to is the Booster C 600™, because it helps me stay as healthy as possible while traveling! It is conveniently packed in small packets that make it easy for me to mix with water when I am on the go. I am also a big fan of the USANA MySmart™Foods that was launched earlier this year. The dark chocolate flavor optimizer and protein bars are my favorite.
Where you'll find her in her spare time: The place I love most is the beach and I try to spend a lot of time there in my 'free' time.
Her goal reaching advice: Simply put, never give up because really, anything is possible if you really want it! As long as you have goals and stay focused you can do anything you want.
Her pre-match rituals: Usually, a good warm-up with my trainer and then listening to some music before I go on the court gets me really ready.
Her five favorite artists: The Chainsmokers, Fifth Harmony, Florida Georgia Line, Russel Dickerson and Jake Owen.
Favorite social media channel: I would have to say Instagram at the moment — @monicaace93.
*The mentioned athletes are either distributors or dedicated users who have received compensation for their partnership and/or complimentary USANA products.
*These statements have not been evaluated by the Food and Drug Administration. This product is not intended to diagnose, treat, cure, or prevent any disease.
We're proud to bring you the freshest content on the web! Follow USANA on Twitter, like our USANA Facebook page and enjoy the latest videos on the official USANA YouTube channel.

Learn what USANA is doing to make the world a better place.
The future of personalized health and nutrition is now available with USANA's True Health Assessment.
https://whatsupusana.com/wp-content/uploads/2016/09/Feature_Image_16x9_300ppi.jpg
675
1200
Allie Henderson
http://whatsupusana.com/wp-content/uploads/2019/11/USANA_Logo_Black.png
Allie Henderson
2016-09-12 06:34:14
2017-02-23 06:14:29
Monica Puig: Tennis' Golden Girl